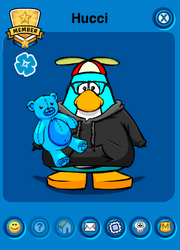 Hucci is a former designer and super moderator on CPYS. After the game's closure, he briefly created CPYSv2.
Facts about Hucci
Club penguin registered user since April '06
18 years old
Designer for 6 months
Satisfied CPYS user
Also known as GarrettJames
3 of his siblings play. Balloon, Surferchick2, S C S.
Resigned 6/14/13 with the hiring of a new designer/moderator Doritos
Huccis' Journey.
On August 2012 is when he joined CPYS as "Boil LOL", "Polo", and "Caffine". Hucci played until about October 2012 until he started not going on. He came back January, 2013 and created a new penguin after having his sister beg tooly to open registration. Then creating his penguin "Garrett" Garrett was simply jacked into because Hucci put on a very simple password. It was not until February 26, 2013 until he created his penguin "GarrettJames" and his backup penguin he is not telling anyone about. When he logged onto GarrettJames the evening of the 26th he notified Tooly about how he can flash design. Hucci created an item and Tooly liked it. The item was glitchy and Tooly helped him sort things out. Then, Hucci was put through the task of creating a cyan bear. When he finished that he sent is to Tooly. and Tooly got it 3 days later. It took 5 days of secretly watching over Hucci and finding out how active/helpful/nice he is on CPYS. On March 6, 2013 a couple hours before he was hired he asked Tooly if he can change his name, Tooly agreed. At about 10:00pm He was hired along with his best friend Blizz. Hucci was a designer from 3/6/13 to 6/14/13.
Ad blocker interference detected!
Wikia is a free-to-use site that makes money from advertising. We have a modified experience for viewers using ad blockers

Wikia is not accessible if you've made further modifications. Remove the custom ad blocker rule(s) and the page will load as expected.